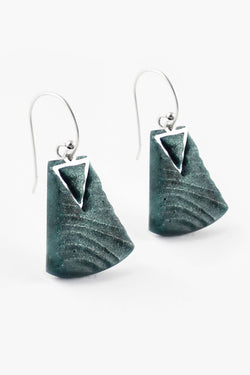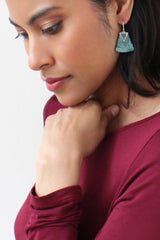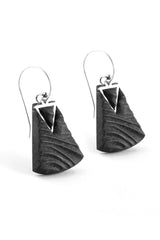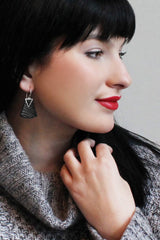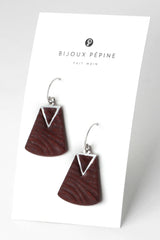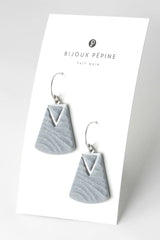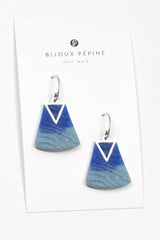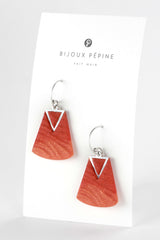 Fine, fluid and feminine, the Nil earrings are a dreamlike nod to the Nile, this fascinating river in Egypt. It will bring a stylish touch to the most natural outfit.
MATERIALS
— made with sand, spices and/or natural pigments crystallized in eco-friendly resin
— rhodium metal, that is recommended for the most delicate of skin types
— light and strong jewelry

NOTE
The jewel that you will receive will have exactly the same shape as on the photo. Since the manufacturing process is artisanal, there may be a slight difference in shade or texture with the photo. Each piece has its uniqueness.
IN YOUR PACKAGE
you will receive :
- jewelry carefully wrapped and ready to be offered as a gift
- a leaflet explaining the universe of Bijoux Pépine and its creator
- a "surprise" discount for your next online order
- a personalized thank you note written by hand

In her workshop, Perrine has developed her own crafting process. She designs each original piece from which she makes molds and where she will then pour in the resin.
Once it has crystallized, the mix of eco-friendly resin with spices (red pepper, tumeric) and other natural ingredients (tea, cocoa, flowers...) reveal surprising and original textures, making each piece unique.
Bijoux Pépine's creations are durable and light, pleasant to wear daily. The metallic components are made of hypoallergenic stainless steel that is tested and approved for sensitive skin.
Processing Time
As everything is handmade and made to order, please allow from 3 to 5 business days for your order to ship. Contact the designer Perrine Marez before placing your order if you have any urgent requests.
Taxes & Custom Fees
American and International customers are responsible for any customs / duties / taxes at delivery of the package. Customs policies vary from country to country. Please consult your country's customs office for an accurate estimate.
Shipping
At checkout, you will find all price and delivery time estimates. Note that in all cases, the designer Perrine Marez does not offer refunds for delayed shipments as she has no control over delays caused by postal services and customs. That being said, she will attempt to accommodate you in case of any problems.
Payment Methods
It accepts all major credit cards (Visa, MasterCard and American Express). All transactions made on this website are secure and encrypted, and it never stores your credit card information.
Order Changes & Cancellation
Should you want to make any changes or cancel your order, please contact the designer Perrine Marez immediately. If your order has shipped already, you might have to pay additional shipping charges.
Damages & Defects
The designer Perrine Marez goes to great lengths to ensure that your order arrives intact. Please inspect your package immediately upon arrival, and contact her with descriptive pictures if anything has been damaged during shipping; she will arrange for repair or replacement of the item(s).
In the rare case of defects in the jewelry, she reserves the right to evaluate if the defect is a result of the production process. If this is the case, she will be happy to repair or replace the item at no extra cost. However, if she judges the defect is a result of accident, abuse, neglect or wear from normal use, she can evaluate repair options together when possible.
Returns & Exchanges
You have up to 15 days after the receipt of your order to return your purchases for a full refund of the purchase price. Articles must be returned in their original packaging and in their original condition, accompanied by the delivery slip initially received with the package. After informing us by e-mail - bijouxpepine@gmail.com - of your intent to make a return, please send the package by post or deposit it in person at the studio.
Postage for returns comes at the client's expense, except in cases where there is a default in the product.
* SALES ITEMS ARE CONSIDERED AS FINAL SALE.
About Your Privacy
Bijoux Pépine is committed to protecting your privacy. It will only use the personal information you provide it to promptly process your order.
Only your email address will be used to contact you with information about special offers and new items shown on our website. It will not be disclosed to anyone else (organization, business, or other).
Website Use
All website content such as the photographs, written content, design and graphics are the intellectual property of Bijoux Pépine. The use and/or partial or total reproduction of this material is prohibited without prior written consent from Bijoux Pépine.
You are urged to read the terms and conditions governing the use of this site. By accessing this site, you agree to these terms and conditions, which may be modified at any time without written notice by Bijoux Pépine. All content, including, without limitation, all text, designs, icons, photographs, code and software used or incorporated into this website, and the organization and presentation of content are trademarks, protected by copyright or other intellectual property right of Bijoux Pépine. This website may contain links to other sites. Bijoux Pépine takes no responsibility for any website you may access through his. Bijoux Pépine has no control over the content of these sites and the presence of such links does not constitute in any way its adherence to other websites.