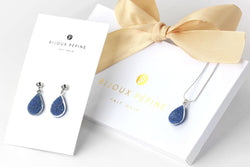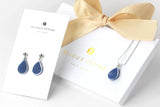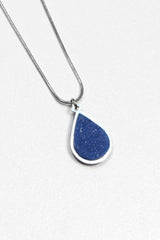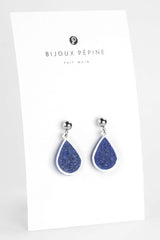 Indigo Blue Jewelry Set - Candide
Our indigo blue Candide set includes one pair of teardrop-shaped stud earrings and one adjustable length necklace.
These little pearls with a floral texture reflect the pure soul of those who wear them. 
Ideal for weddings.
Indigo flower powder for an intense blue hue
These earrings and necklace are made with indigo flower powder mixed with eco-friendly resin. We use stainless steel metal, which is recommended for the most delicate of skin types. Each piece of jewelry is individually crafted. There may be some slight nuances in the shades or textures. 
Matching Earrings & Necklace Set
Layer on the color with this stunning set of gorgeous handmade jewelry pieces. Each Candide jewelry set will be shipped to you carefully wrapped and ready to be given as a gift... to yourself, or to a loved one!

The item I want is sold out!
Will it be produced again? Can I pre-order it?
To know if an item is still available at our studio, please email the designer Perrine Marez at bijouxpepine@gmail.com Make sure to provide us with as many details as possible on the desired item (name, color, and picture if possible) so she can better answer your inquiry.



Are there any Bijoux Pépine promo codes?
Yes indeed!
Subscribe to the newsletter, and you will receive a 10% off promotional code applicable on your first online purchase. Once you are registered, you will benefit from exclusive offers all year round.
You can also have a look at the on-sale section for discounts.



What methods of payment are accepted on bijouxpepine.com?
Orders can be paid by credit card (Visa, Mastercard and American Express) or via Paypal.
The online store does not allow for instalment payments.

SECURE PAYMENT: We never store your credit card information. All transactions are made through Shopify and are secure and encrypted.



How do I know if my order has been sent?
Once it is paid for, the designer Perrine Marez treats your order as quickly as possible. It may take between 3 to 5 business days for your order to be sent. Once it is completed and mailed, you will receive an email confirming your package is on its way.
How long does it take for delivery? Can I get my order faster?
At checkout, you will find all price and delivery time estimates.
If you want more informations, please contact the designer Perrine Marez directly at bijouxpepine@gmail.com



Can I wear my jewelry under the shower / to go swimming?
Even though Bijoux Pepine's jewelry is resistant, it's preferable to take it off before going under water.

In the event that the gold or silver leaf tarnishes, it can be cleaned by soaking the jewel for a few hours in 70% rubbing alcohol. If the piece of jewelry still shows traces of oxidation, you can let it soak a little longer.

The metallic parts can be wiped with a soft chamois-type cloth.



How do I know what my ring size is? Are Bijoux Pépine rings adjustable?
Rings are not adjustable.

To find out what your size is, place a tailor's measuring tape around the finger which will wear the ring, around the joint (where your finger is the biggest). Take your measurements preferably at the end of the day, when your fingers are likely to be a bit swollen. Read off the measured value in millimeters. For example, if your finger measures 52mm, your ring size is 52 (FR size). You can convert it to a US size using the chart below.
If you don't have a measuring tape, you can also take your measurements with a non-elastic string and place it on a ruler.

If you already have a ring of the right size, measure its diameter with a ruler and find the corresponding size in the chart below.
The Bijoux Pépine bracelet / necklace I bought is too short / too long. Can I have it adjusted?
Absolutely.

Contact the designer Perrine Marez at bijouxpepine@gmail.com to make an appointment at her studio. She will adjust it on site.
If you are too far from us geographically, it is better to go to a jewelry shop closer to you.



I saw (on social media, in a store) a Bijoux Pépine design which isn't available online. Can I place a special order?
Some older designs, colors or prototypes may still be available at Perrine Marez' studio in Montreal. Email her at bijouxpepine@gmail.com . Make sure to provide her as many details as possible (name, color, and picture if possible) so she can better answer your inquiry.



I lost an earring. Can I have it replaced?
If you lost an earring, the designer Perrine Marez will evaluate if it is possible for her to produce a new one. Please contact her at bijouxpepine@gmail.com with a picture of you earring that she will use as a reference. However, the production methods being artisanal, she cannot guarantee that the color will match perfectly. Each jewel is unique. Some older designs or colors may no longer be available. Extra fees may apply. 



Does Bijoux Pépine offer gift-certificates?
Link here



I have a store. Can I distribute Bijoux Pépine?
The designer Perrine Marez would love to collaborate with you. Please contact her at  wholesale@bijouxpepine.com to know about her distribution conditions.



I'm a stylist, can I do business with Bijoux Pépine for my clients?
Yes, with great pleasure. Please contact her at wholesale@bijouxpepine.com 



Where can I find your products?
If you wish to visit the studio, Perrine will receive you with great pleasure. Please email her at bijouxpepine@gmail.com to make an appointment.

Bijoux Pépine is also distributed in many stores, which you can find in our section points of sale.



Are jewels guaranteed?
Bijoux Pépine's jewels and accessories are guaranteed for a year.
Perrine Marez works hard to provide you with the prettiest and most durable creations of all. If despite all of the quality controls your piece presented a small defect, she invite you to contact her at bijouxpepine@gmail.com 
Don't forget to attach to your message some photos of the piece to be repaired. This will help her to offer you the best possible solution.
In her workshop, Perrine has developed her own crafting process. She designs each original piece from which she makes molds and where she will then pour in the resin.
Once it has crystallized, the mix of eco-friendly resin with spices (red pepper, tumeric) and other natural ingredients (tea, cocoa, flowers...) reveal surprising and original textures, making each piece unique.
Bijoux Pépine's creations are durable and light, pleasant to wear daily. The metallic components are made of hypoallergenic stainless steel that is tested and approved for sensitive skin.
Processing Time
As everything is handmade and made to order, please allow from 3 to 5 business days for your order to ship. Contact the designer Perrine Marez before placing your order if you have any urgent requests.
Taxes & Custom Fees
American and International customers are responsible for any customs / duties / taxes at delivery of the package. Customs policies vary from country to country. Please consult your country's customs office for an accurate estimate.
Shipping
At checkout, you will find all price and delivery time estimates. Note that in all cases, the designer Perrine Marez does not offer refunds for delayed shipments as she has no control over delays caused by postal services and customs. That being said, she will attempt to accommodate you in case of any problems.
Payment Methods
It accepts all major credit cards (Visa, MasterCard and American Express). All transactions made on this website are secure and encrypted, and it never stores your credit card information.
Order Changes & Cancellation
Should you want to make any changes or cancel your order, please contact the designer Perrine Marez immediately. If your order has shipped already, you might have to pay additional shipping charges.
Damages & Defects
The designer Perrine Marez goes to great lengths to ensure that your order arrives intact. Please inspect your package immediately upon arrival, and contact her with descriptive pictures if anything has been damaged during shipping; she will arrange for repair or replacement of the item(s).
In the rare case of defects in the jewelry, she reserves the right to evaluate if the defect is a result of the production process. If this is the case, she will be happy to repair or replace the item at no extra cost. However, if she judges the defect is a result of accident, abuse, neglect or wear from normal use, she can evaluate repair options together when possible.
Returns & Exchanges
You have up to 15 days after the receipt of your order to return your purchases for a full refund of the purchase price. Articles must be returned in their original packaging and in their original condition, accompanied by the delivery slip initially received with the package. After informing us by e-mail - bijouxpepine@gmail.com - of your intent to make a return, please send the package by post or deposit it in person at the studio.
Postage for returns comes at the client's expense, except in cases where there is a default in the product.
* SALES ITEMS ARE CONSIDERED AS FINAL SALE.
About Your Privacy
Bijoux Pépine is committed to protecting your privacy. It will only use the personal information you provide it to promptly process your order.
Only your email address will be used to contact you with information about special offers and new items shown on our website. It will not be disclosed to anyone else (organization, business, or other).
Website Use
All website content such as the photographs, written content, design and graphics are the intellectual property of Bijoux Pépine. The use and/or partial or total reproduction of this material is prohibited without prior written consent from Bijoux Pépine.
You are urged to read the terms and conditions governing the use of this site. By accessing this site, you agree to these terms and conditions, which may be modified at any time without written notice by Bijoux Pépine. All content, including, without limitation, all text, designs, icons, photographs, code and software used or incorporated into this website, and the organization and presentation of content are trademarks, protected by copyright or other intellectual property right of Bijoux Pépine. This website may contain links to other sites. Bijoux Pépine takes no responsibility for any website you may access through his. Bijoux Pépine has no control over the content of these sites and the presence of such links does not constitute in any way its adherence to other websites.